about us
WHO WE ARE AND WHAT WE DO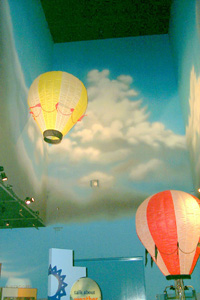 Exhibiteers Inc. was formed in January of '96. Our core group of interactive designers and builders cover 40 years of experience. We started at the very beginning of the interactive exhibit trend with the opening of the Exploratorium in San Francisco, California and the Ontario Science Centre in Toronto, Canada.

Our work continues today with science centers and museums worldwide. We specialize in creating new interactive exhibits in any of the scientific disciplines through a well defined process of prototyping and evaluation. We also have produced a large number of ready to go exhibits that suit a variety of exhibit themes, many of them can be modified to suit your needs.
Given the inventive one-of-a-kind nature of our work, we are proud to have built some of the most creative and reliable interactive exhibits worldwide. But we don't stop there - our exhibits are supported by the industry's most comprehensive documentation and backed by our one year warranty program.
Our reputation is built on excellence in interactive design and support.
OUR DESIGN PHILOSOPHY
We engineer our exhibits to meet the demands of public use.
We test all new designs thoroughly to ensure reliability.
We emphasize clean, simple designs that are easy to maintain.
We support our designs with unparalleled exhibit documentation.
We are proud of our work and confidently support it with our warranty program.
OUR CREATIVE PROCESS
Here are some things we've learned in the process of creating interactive exhibits:
A prototype is simply the best way to visualize an idea and share it with others.

Prototypes should be simple and quickly made to rapidly verify an initial idea.

Prototyping is an iterative process - so keep trying simple variations.

Show your prototypes to as many people as possible - it's the fastest way to harden an idea.

Test your prototype with actual science center and museum visitors as early as possible.

Back to Top